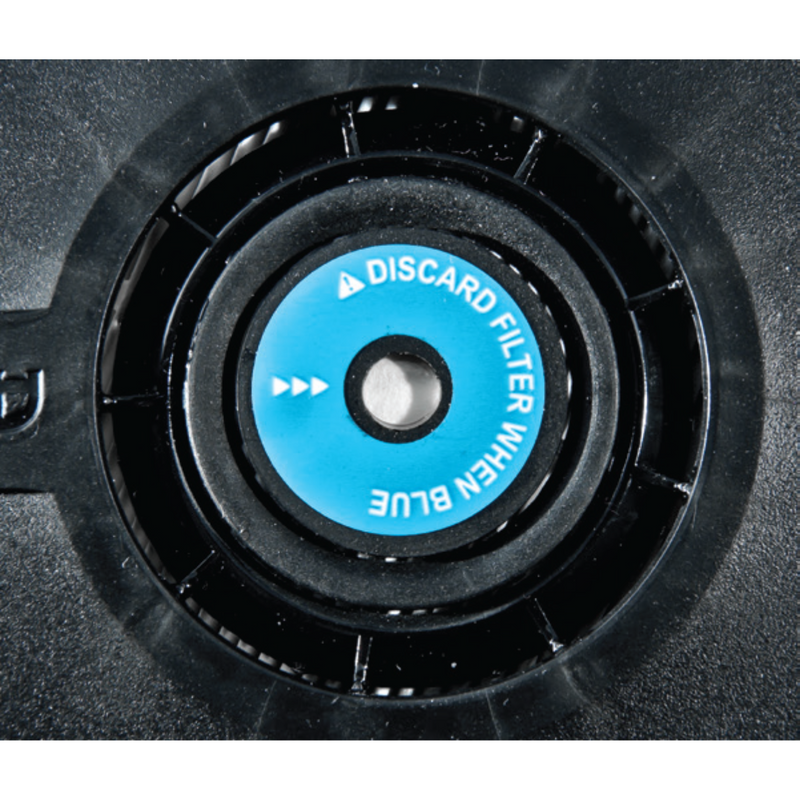 CTCF50 Riot Agent Filter
The Avon CTCF50 Filter is a low-profile combination filter containing a pleated high-efficiency filter element for removal of aerosols, particulate matter, smoke, fumes and a carbon bed for the removal of vapors that may be released from trapped particles. It is specifically designed for removal of riot control agents and tear gases including CS, CN and OC pepper spray. Available in packs of one (1) or four (4).
Humidity Indicator
A unique standard humidity indicator is located on the top of the CTCF50 filter and visually displays performance degradation due to moisture uptake over time. The indicator turns white to blue signaling that the unit pack was compromised and the filter must be discarded.
Compatible with Avon Protection C50 and FM54 Air Purifying Respirator only. For NIOSH approved configurations please see the datasheet or the FAQs.
This product is controlled by the U.S. Government and may not be exported, sold, transferred, transported or shipped outside of the U.S., either in their original form or after being incorporated into other items without first obtaining approval from the U.S. government or as authorized by U.S. law and regulations. Avon Protection products are subject to the Export Administration Regulations (EAR) with Control Classification Number (ECCN) 1A004.    
Breathing Resistance
< 20 mm of H2O @ 85 l/min (typical)
Specification
Dimensions

Diameter
Ø111 mm
Weight
<155 grams (typical)
Thread
40 mm to NATO STANAG 4155*
Color
Black
* Although the thread form is compatible with STANAG 4155 and EN148-1 the sunken thread within the conformal filter may result in the filter not sealing to some types of PPE. It is essential that the CTCF50 filter is used only with Avon masks.
CTCF50 Datasheet