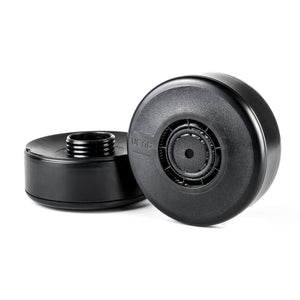 CFP100 Particulate Filter
The Avon Protection CFP100 Filter is a low-profile particulate filter containing a pleated high-efficiency filter element for removal of very fine dusts, fumes, viruses, and oil- and water-based mists. The filtering capacity for particles of the most penetrating particle size is greater than 99.97%.
Reusable Particulate Filter

Conformal shape providing low profile

10 year shelf life

Protects against mists, fumes, biological agents, including viruses, and dusts including radioactive dusts.
This product is controlled by the U.S. Government and may not be exported, sold, transferred, transported or shipped outside of the U.S., either in their original form or after being incorporated into other items without first obtaining approval from the U.S. government or as authorized by U.S. law and regulations. Avon Protection products are subject to the Export Administration Regulations (EAR) with Control Classification Number (ECCN) 1A004.  
Breathing Resistance
<15 mmH2O @ 85l/min (typical).
The particulate filter element of the CFP100 was designed to exceed the requirements of NIOSH 42CFR84 P100 and EN 14387 (P3) ensuring effective performance against dusts, mists, fumes, and biological agents (bacteria, virus, fungal spores etc), and radioactive dusts.
Specification
Dimensions
Diameter
Ø118mm
Weight
118 grams (typical)
Thread
40mm to NATO STANAG 4155*
Color
Black
*Although the thread form is compatible with STANAG 4155 and EN148-1 the sunken thread within the conformal filter may result in the filter not sealing to some types of PPE. It is essential that the CFP100 filter is used only with Avon Protection masks.
CFP100 Filter Data Sheet